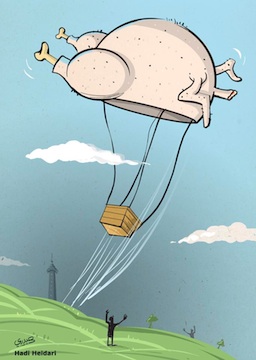 On August 8th of 2012, Meir Javedanfar wrote an article about the rising price of chicken in Iran (I just saw the article today!): The Price of Chicken. The article links the rising price of chicken (and other foods) to politics:
The supreme leader could, for example, blame the price of chicken — which has tripled since last year — on sanctions that the U.S. and the European Union imposed to deter Iran from continuing its nuclear-fuel plan. Yet that would mean admitting to both the West and ordinary Iranians that sanctions are having a big impact, something the regime is desperately trying to avoid. Iranian officials have instructed the news media not to discuss the effect that sanctions are having on the economy.
Perhaps, people in Iran can track the price of chicken around the world using our crowdmap?