USHAHIDI
Cost of Chicken data collection is powered by the Ushahidi's open source mapping platform. Basically, anyone in the world with a computer (or a mobile phone) can add information that can be tagged to a location on a map and stamped with a date. It's simple and amazingly valuable. Ushahidi calls this collection of information a crowdmap — data by the people for the people!
We used Ushahidi's open source software and put up the Cost of Chicken World Map.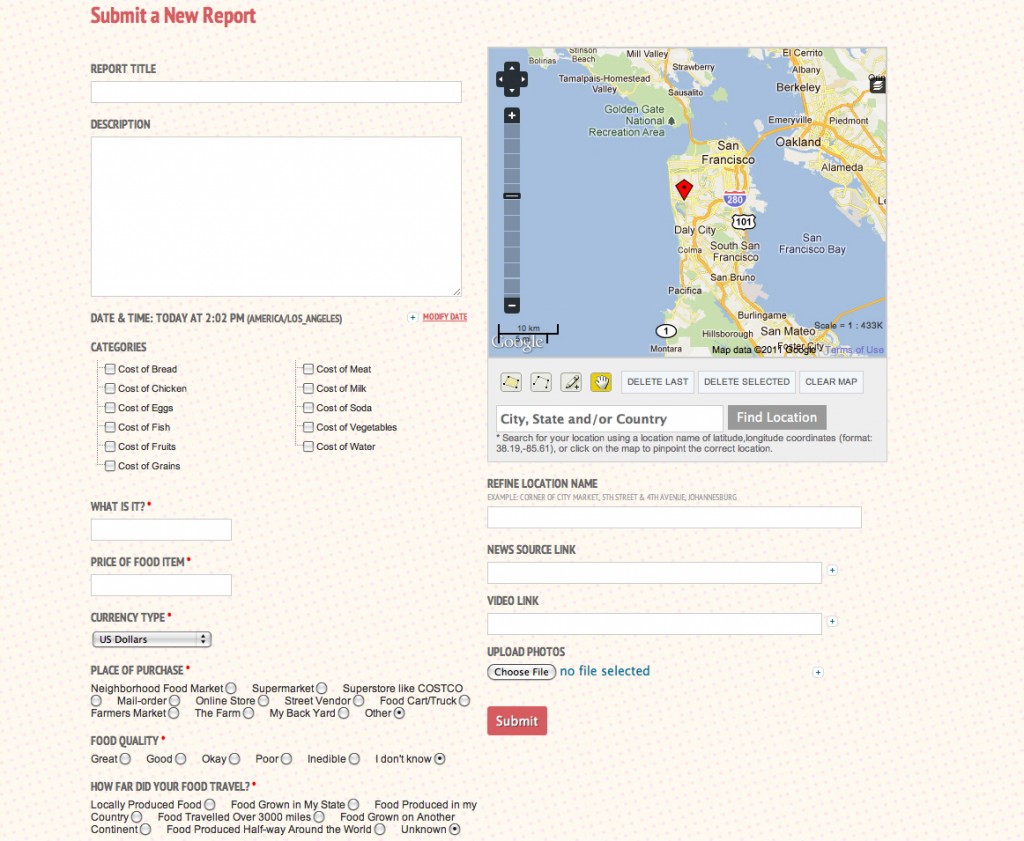 To submit your Cost of Chicken Report, you need the following information:
REPORT TITLE: what food are you reporting?
DESCRIPTION: you have to give a little information about the food — data that doesn't easily fit into other fields (e.g.: "this was bought for a family holiday dinner", or "the place that sold the chicken is a small family-owned store not far from our house.").
CATEGORIES: just choose a category of food that fits the best.
WHAT IS IT?: in the briefest of terms describe the food item (e.g.: chicken breasts, apples, potatoes).
PRICE OF FOOD ITEM: how much does this food cost? It's best to give the price per pound or kilogram or per item. Make sure to specify what the money buys.
CURRENCY TYPE: what money are you using? If you don't see your currency, then use other and make sure to specify it in the DESCRIPTION.
PLACE OF PURCHASE: this is an important bit of data — food price changes depending of where you buy it.
FOOD QUALITY: pick the quality that best describes the food you bought.
HOW FAR DID YOUR FOOD TRAVEL?: again, this is an important bit of information — was your food grown locally or did it have to travel around the world to reach your plate?
NAME: you don't have to enter any personal information to submit a report. But if you would like to become a Trusted Food Reporter, you have to let us know who you are and where you are. We'd be happy to work with you!
FIND LOCATION on a MAP: this is very important — we are looking for differences in prices based on location of the shopper. You can live anywhere in the world and still add data to the map! Type in your address and click the FIND LOCATION button next to it. This will create a point on a crowdmap.
REFINE LOCATION NAME: it's good to give your location a name (e.g. COSTCO, Safeway Supermarket, 25th Ave FoodMart)
NEWS SOURCE LINK: we've been using this field to link Yelp information on the place of purchase. If you don't have something similar where you are, don't worry about it.
EXTERNAL VIDEO LINK: if you've posted a video on YouTube, for example, here is a place where you can link this video to your food report. Make sure that this is appropriate video for ALL audiences, please!
UPLOAD PHOTOS: and finally, you can upload photos of the food and the places that sell it. It's fun to see the differences in how food is sold around the world!
So it's quite simple, really. Just fill out the form (the little red stars next the data fields mean that those fields are required) and that's it! We'll scan for new reports and add them to Cost of Chicken World Map. We'll click "verified" only for the data that is coming from people we actually know — Trusted Food Reporters.
All of the data is available to all! We hope you would use it to do fun projects where you are. And we hope that by seeing how people live and what they eat, we can change the world just a little bit — we hope people would try to conserve energy by buying food locally; we hope that people think about food insecurity and inequality and try to find ways of addressing it; and we hope that everyone will learn a bit about their neighbors across the globe!